Uploading Photos using Dropbox
On the current version of IOS (6.1.3) Apple has disabled importing photos & videos from a "Supervised" iPad (all student iPads in the district are "Supervised"). To get around this you can use Dropbox to upload the files to your computer.
1. Sign up for a Dropbox Account
Go to
www.dropbox.com
and sign up on their main page. All you need to provide is your name, email address and a password.
*NOTE the following instructions are for Macs.
Download the Dropbox app to your Computer (It should automatically start downloading when you sign up). Once its done downloading, click on the downloaded file, and it will mount a Dropbox "Drive" on your desktop (see pic below):

Open this up and there will be a Icon for dropbox, double click to install it: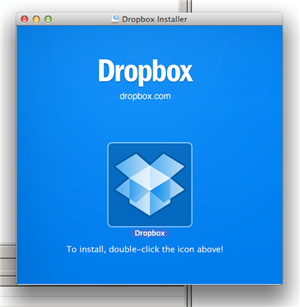 Once installed it will ask you to login. Use the same email and password you entered when you signed up. Once you do that it will walk you through a quick tour of Dropbox.
Open the App Store and install the Dropbox app onto your iPad. You will need to use your own iTunes account (Instruction for creating one with your school email can be found
here
)
Sign into the Dropbox account on the iPad using your dropbox email and password. Once signed in touch the setting pane (little gear in the lower righthand corner) and enable the "Camera Upload" feature. What this will do is upload any photos or videos that are in the Camera roll on the iPad. You can touch the photos icon at the bottom to see that status of the upload. It may take several minutes to transfer them all. On your mac you can view the uploaded photos in your dropbox folder in the "Camera Upload" folder.